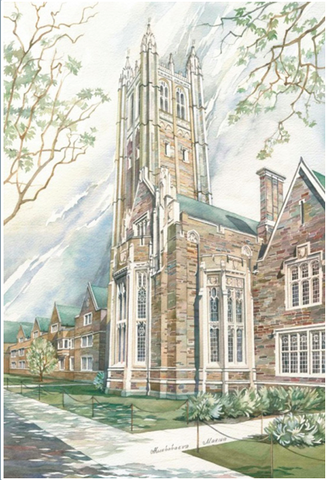 Marina Ahun "Holder Tower from Nassau Street" Watercolor Fine Art Print
Museum quality watercolor giclee print
Original: SOLD
Original in Princeton University's permanent collection
This dominant 145-feet tall memorial tower is a visible and well-recognized landmark, one of the most prominent landmark of the Princeton skyline. Holder Tower has unique finials atop the pinnacles – four bronze tigers-rampant – which also function as weathervanes.
Giclee print available in 4 sizes:
Small (up to 8x10) priced at $96.00 Now: $48.00
Medium (up to 11x14) priced at $130.00 Now: $65.00
Large (up to 13x18) priced at $180.00 Now: $90.00
Custom (up to 22x30) priced at $230.00 Now: $172.00
- Print has a white border (3/4"-1") to allow for matting and standard size framing by the customer. 
- Print is 'artist proof' individually signed by Marina Ahun Vorojeykina
*Please note prints are made to order, please allow 7 business days before shipping.
Shipping is free for all orders in the continental U.S, no international shipping available
Final sale